10 PACK LIQUID FILLED PRESSURE GAUGE 0-4000 PSI, 2.5" FACE, 1/4" BACK MOUNT WOG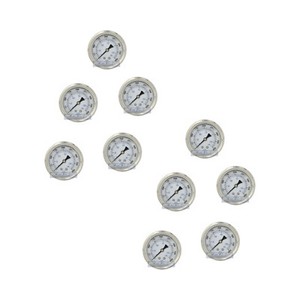 ---
BRAND NEW !!!
NEW LIQUID/GLYCERIN FILLED AIR PRESSURE GAUGE. 2.5" FACE WITH 1/4" MALE NPT CONNECTION.  CENTER BACK MOUNTED.
0-4000 PSI
10 PACK OF High Quality Line Of Liquid Filled Gauges.
 The Glycerine Filling
Helps Dampen The Effects Of Pulsation And Vibration, While Also Perpetually Lubricating
The Movement (And Keeping Contaminates Such As Dirt Away From All Moving Parts)
Which Will Extend The Life Of The Gauge.
This gauge has been specifically designed with the original equipment manufacturers in mind and are typically used on hydraulic & pneumatic systems as well as any commercial or industrial application not corrosive to brass and bronze wetted parts where glycerine filling is suitable for use.
- Stainless Steel Case And Bezel
- Brass Internals & Connection - Phosphor Bronze Bourdon Tube - Plastic Lens Standard  - Glycerine Filled
IMPORTANT: DO NOT DETERMINE YOUR PIPE THREAD SIZE WITH A TAPE MEASURE OR RULER. PIPE THREADS FOLLOW THE NPT (NATIONAL PIPE THREAD) GUIDELINES AND CANNOT BE ACCURATELY CALCULATED W/ A LINEAR MEASURING TOOL. EXAMPLE: 1/4" NPT MEASURES .505" ON A TAPE MEASURE. IF YOUR ONLY UNIT OF MEASUREMENT TO DETERMINE YOUR PIPE THREAD SIZE IS A TAPE MEASURE OR RULLER. PLEASE CLICK THE LINK BELOW TO VIEW A CHART SHOWING THE CORRECT DECIMAL TO PIPE THREAD SIZES.
UPE GROUP POLICIES AND INFORMATION:
Payment Information: We accept PayPal for payments
Contact us: Please use the message board to contact us. On each of our listings you will see a couple of options to contact us. The "ask seller a question" link  and the "Contact seller" link are both good to use. Your questions will be answered Mon-Fri during our Business operation hours. Please do not contact us through email regarding an purchase. policy states that all contact between buyers and sellers must go through the message board. In addition, when you contact us through the message board regarding an item you purchased, we can see exactly when you purchased, when it shipped, and any other info relating to your one specific order. Shipping Polices:We are open Monday through Friday shipping orders.  All orders ship within 24 BUSINESS Hours of payment confirmation. We ship most orders the same day that we receive them, just as long as your paypal payment clears before 3pm EST. We generate all of our shipping labels through , so your tracking info will be emailed to you the moment your shipping label is generated. You can click the link on your tracking info to get up to date tracking info regarding your shipment. You can find the link on your transaction details page, or under the "Buying" portion on your "My " page. For specific shipping info and combined shipping rules, please click the "shipping and payment" tab on any of our listings. That link will show you the shipping specifics and combined shipping rules relating to that specific item.
Tracking Information: We provide Tracking info on every item that is purchased on . The tracking info will be emailed to you the day your order is shipped.
Feedback Policies:Anyone who purchases from us gets positive feedback.
Return Policy & Exchange Policy:Return Policies: We have a 14 day return policy. Arrangements must be made within 14 days of purchase. Although Seldom, if the part you ordered is defective, we will make the proper arrangements to correct the issue at no extra cost to you. If the buyer orders the wrong part, It is up to them to pay the to and from freight charge on the exchange. We do not charge a  restocking fee if an exchange is in order. No restocking fee is in order as long as the customer returns the part and pays the freight charge to have the correct part sent to them.If the buyer orders a part by mistake and wants to return it for a full refund. We will refund the total amount less the freight charge that we paid to have the part sent to them. In addtion, a 10% restocking fee will be deducted from the refund to help offset the time, shipping supplies and personel that was used to ship the item. This policy protects from losing money when the customer orders by mistake.
PLEASE FEEL FREE TO MESSAGE US WITH ANY QUESTIONS YOU MAY HAVE.
THANKSUPE GROUP